Farage, D.O.S.T. and neo-Nazis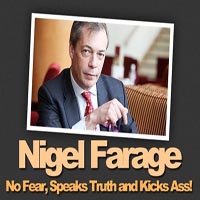 Nigel Farage, the eurosceptical Member of European Parliament, is heading Prague. He was invited by Czech ultraconservative association "Akce D.O.S.T." which is connected to president Václav Klaus and his surroundings. This group of fundamentalist activist attracted attention last year when its representative, Ladislad Bátora, caused during his activity at Ministry of Education set of scandals, some of which had implicit racist or xenophobic meaning. Again it came to light that association D.O.S.T. is in the long term and by personal contacts supported by Czech neo-Nazis.
Originally informal initiative has introduced itself in autumn 2007, when they prepared petition against anti discriminative moves and delimit itself against integration within EU. The petition was a change in existing strategy of leaders among nationalist and catholic setting. In the last decade they have tried to success in elections with clero-Fashist program. The aim of the petition was, among other, to publicly connect themselves with current politicians, mostly from dominate parliamental party ODS and also to have a support of this party. After it turned out that among those who signed the petition there are eminent Czech neo-Nazis, the scandal broke out and the initiative haven´t been publicly active for two years. The whole thing was raised by the fact that at time of the petition neo-Nazis have tried to organize a march through Prague Jewish Quarter at the annual of the Crystal Night. This attempt caused public outrage and one of the biggest demonstrations against fascism in the history of Czech Republic.
The group D.O.S.T. was again publicly active in autumn 2009 in connection with the process of ratification the Treaty of Lisbon, when organized few demonstrations to support euro-skeptic president Václav Klaus who prevented from acceptance of the contract. Neo-Nazis were presented at those demonstrations and by this they confirmed that their contacts from the past are still active. Mainstream media gave neutral information about this group and the scandal they made two years ago was forgotten.
In spring 2010 the initiative organized more protest demonstrations against acceptance anti discriminative law. At the same time Antifa.cz published article about D.O.S.T. (link only in Czech language), which was prepared by Czech journalist for popular news week Reflex, but which was rejected by the editor Pavel Šafr (today he is the editor of best selling gutter press Blesk). Both Reflex and Blesk are part of Swiss-German publishing concern Ringier Axel Springer Media AG. The article is published at Antifa.cz with acceptance of the author-journalist and it describe the background and contacts in ultra-conservative part of politician spectrum, anti-Semitic expressions and connection with neo-Nazi scene through different national projects, which were in the past part of the attempt to gain the favor of electors and to arrange entrance to the Parliament.
The Federation of Jewish Communities showed in their report about the state of anti-Semitism in CZ in 2010, that they understand the initiative D.O.S.T. as a "relatively dangerous phenomena not only for Czech Jews, but also for whole democratic development in CZ". In this report there was also a reaction to connection of activist around D.O.S.T. with euro-skeptical non-parliament party "Svobodní" (The Independents) Petr Mach´s through non-parliament political subject "Právo a Spravedlnost" (Right and Justice). A lot of notable persons took an active part in the actions of group D.O.S.T.: the governance of youth organization under the traditional Czech Catholic party KDU-ČSL, which has also delegates in European Parliament and also Roman Joch, who was later an advisor of current prime minister Petr Nečas and admirer of the politic of Ronald Reagan, Margaret Thatcher and also Augusto Pinochet. Joch is also known for set of controversial statements in which he for example trivializes the usage of torture. The fact, that this man advise prime minister on foreign affairs and also on questions of human rights, suitably sketch in the political mood of the current Czech establishment.
The main entrance of association D.O.S.T was in spring 2011, when Ladislav Bátora (at that time the official chief) was inaugurating at Ministry of Education. Originally informal initiative was in January 2012 registered as a civilian association. This was after the government crisis after which the part of coalition government (Věci veřejné), which minister Josef Dobeš ruled the resort of education, was weaken. Disintegration of the government was averted by intervention of president Václav Klaus. By this the president gain considerable influence on government and first of all on the party Věci veřejné. Bátora himself refered to the support of president and during protest against his person he was backed up by the president. The engagement of Bátora, which stand more than half year, was accompanied by relentless protest of coalition as well as opposing politics, universities and also human-right organizations which don´t agree with the fact that person with clero-Fascist past is holding important functions in the government. The person of Bátora was the cause of the next crisis of government, but he didn´t leave the Ministry until the end of the year. With his departure the media interest of activities of D.O.S.T association is coming down.
One of the possible reasons of Bátora´s engagement in Ministry and also of his confrontational behavior could be testing of public mood for new political subject of president Klaus, who´s office ends in 2013. To this scenario fits also the attempt to split or get know the closeness of opinion to extremely conservative thoughts in Klaus´s past party (he established ODS and was its chef for 11 years). To this also served first Prague march LGBT community last summer, which was a pressure to Prague´s city major (ODS) to cancel a support over action which was according to its critiques in contradiction with ideas of the party. Part of the campaign constituted unscrupulous attacks against sexual minorities, to which were integrate Klaus´s inferiors from president office and also the activists from D.O.S.T. and other groups with close options. According to the last findings the origin of new politician subject under Klaus management is not probable. Ideological differences and personal aversions between individuals and groups in extremely right spectrum dominate, however lot of them wish Klaus to be a manager of the new party. Klaus´s surrounding shows that older politician will pay attention only to lectures.
D.O.S.T continues in contacting established politicians and one of their productive topic is euro-skepticism (in fact intensive nationalism). To this framework fits also the visit of Member of Euro parliament Nigel Farage. The fact is that Czech euro-skeptic environment is strongly connected with extreme right wing in all its forms, including neo-Nazism. This confirmed the action D.O.S.T. made this year in May, when they published a statement to support a group of 8 eminent neo-Nazis, who face lawsuit for propagation of neo-Nazis movement and organization of neo-Nazis demonstration (including invitation of past members of SS). Although the process is controversial in some respects and it seems to be purpose-built (two of accused spend a year in custody, however it´s not unusual in Czech Republic), it cannot be denied that accused were active neo-Nazis, some of them continually from 90´s. D.O.S.T. dissociated themselves from supporting racism, however those formal declarations are in evident contrast with realized activities, as we will show in brief view.
František Červenka, is the secretary of the Action D.O.S.T. long time activist of clero-Fascist and one of the connections with neo-Nazis scene. In the left part of the picture we can see Červenka on the neo-Nazis demonstration in Kladno on 28th October 2007 at the anniversary of the patron of Czech land St. Václav. The transparent with tricolor of the Third Empire is held by members of neo-Nazi women organization Women Side. At that time the main speaker of the demonstration Jiří Bunda said (among other): "To hell with humanism, to hell with democracy!". In the right side there is a detail of Červenka in front of one of the demonstration D.O.S.T. in 2010.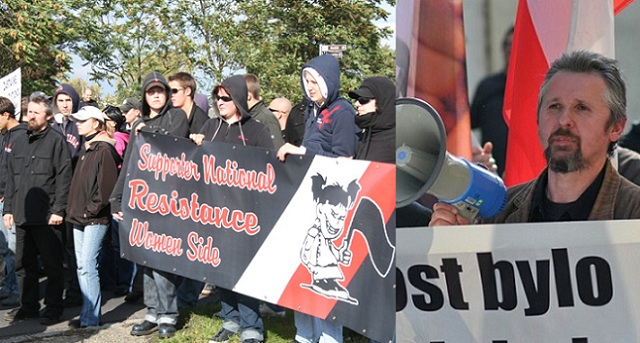 July 2011. Together with other representatives of Action D.O.S.T., Červenka is invited to Prague Castle to congratulate president Václav Klaus on his birthday. The meeting lasts two hours. Contacts with neo-Nazis are not strange not even for Klaus´s close cooperatives from president´s office. His secretary Ladislav Jakl offered an interview for a book prepared by long-time neo-Nazis and manager of the group Conflict 88 Robert Fürich. The assistant of president of communication Petr Hájek wrote an article to support other eminent neo-Nazis Filip Vávra, an informal leader of National Resistance, who was active in violent attacks and the initiator of the well known neo-Nazis action in the history of CZ, which were attacks to Roma suburb Janov in 2008. The attempt pogrom at that time ends up as a street fight of neo-Nazis with police.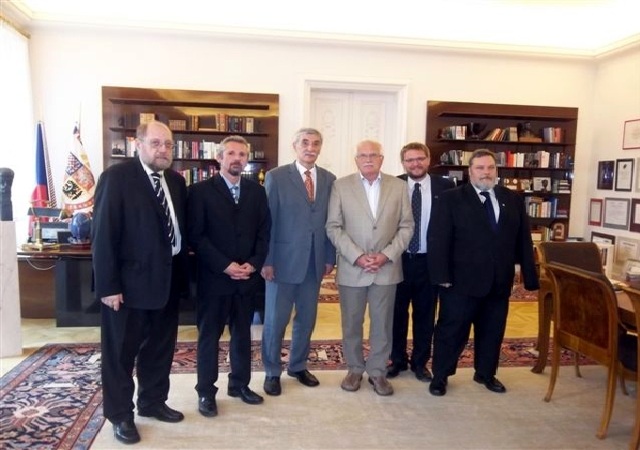 On the left side of the picture is Červenka (turned backwards) by the transparent D.O.S.T during the action "March to the Castle" in 2008, together with neo-Nazis Petr Fryč (on the absolute left). On the right side of the picture, in company of David Macháček (chief of National front), there is Červenka speaking on the demonstration in 2006. At that time Červenka is a candidate in ballot together with neo-Nazis and in media there are Petr Fryč´s and Patrik Vondrák´s names. Other pictures from Červenka´s past are in Czech article.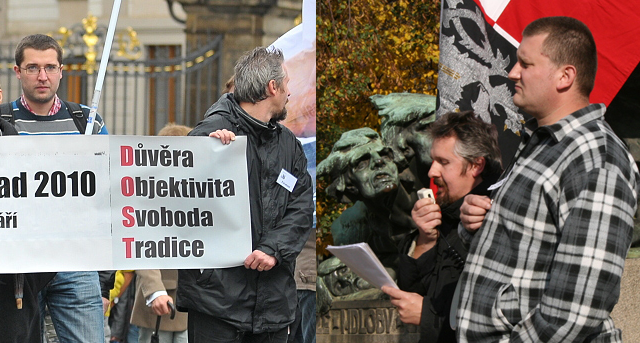 In 2009 neo-Nazis Petr Fryč and Patrik Vondrák are present on demonstrations D.O.S.T. supporting euro-skeptic attitudes of president Klaus towards the Treaty of Lisbon. On the left there is Petr Fryč (only crown of the head), on the right Patrik Vondrák. In the other picture the face of Fryč, this time with badly visible Vondrák, during one of the "March to the Castle" (3rd October 2009).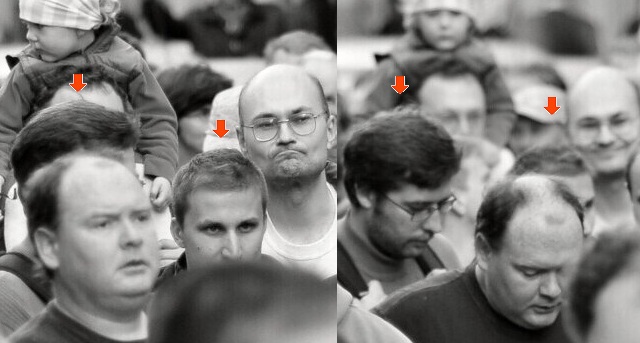 Fryč and Vondrák presented at the previous action D.O.S.T, which occurred 17th September 2009. The action was massively supported by non-parliament party of Petr Mach "Free citizen's party", which is directly supported by president of Czech Republic.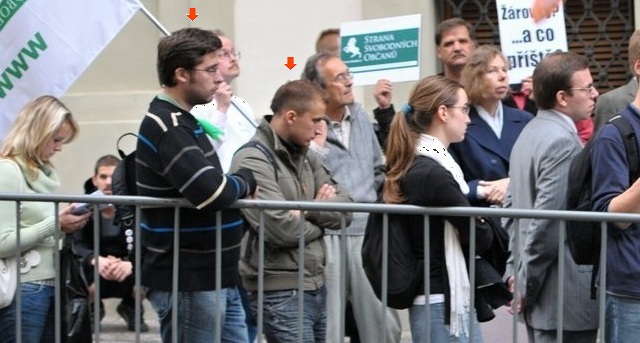 Neo-Nazis Fryč and Vondrák are among their most favorite company. Vondrák (in the circle) is in the common picture of Prague´s part of National Resistance (Národní Odpor), which is from 2009 the main neo-Nazis organization. Vondrák was one of the editors of the main neo-Nazis web Odpor.org. He was also one of the organizers of the neo-Nazis provocation in November 2007 when neo-Nazis wanted to march through Prague Jewish Quarter at the time of the anniversary of the Crystal Night.
Petr Fryč with neo-Nazi icon and aggressor Tomáš Kebza Kebza was in the second wave of Czech neo-Nazis, which emerged at the beginning of 90´s, together with Fryč. Fryč was a member of the Blood and Honor organization, which prevented the National Resistance (Národní odpor) and in 2000 he participated in the attack at Roma´s party. Fryč have been repeatedly active in actions D.O.S.T. For the last time media monitored his presence at the lecture in spring 2011.


Petr Vondrák (second one from the right) in spring 2011 during the action of Czech "Dělnická strana sociální spravedlnosti" (DSSS) with German Nationaldemokratische Partei Deutchlands (NPD). Vondrák was a chief of Prague organization Dělnická strana (DS), which was in 2010 dissolved by the court due to "caused the racist, ethnic and social intolerance". Succession politic party DSSS continues to cooperate with part of neo-Nazis. One of them is Lukáš Stoupa (in the picture he is wearing checked shirt), completely left Udo Voigt (at that time chief of NPD), second one from the left is a chief of DSSS (and DS) Tomáš Vandas, in the middle there is another official DSSS (also DS) Jiří Štěpánek.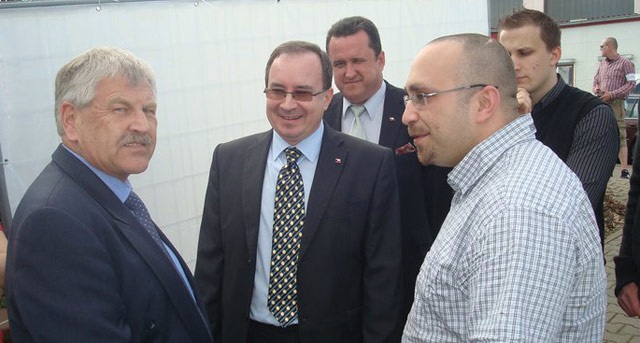 The main ideologist and current chief of the association Akce D.O.S.T. Michal Semín (in the picture on the left), who is also catholic fundamentalist, who was in his past accused from anti-Semitism. Anti-Semitist or at least anti-Judaist statements are emerging in his texts or in texts of the authors he publishes. The lecture of the American ultraconservative promoter Michael Jones, organized by Semín and his Institute of Saint Josef in Prague in 2006, caused open argumentation with the leadership of Czech Catholic Church. At that time Czech archbishop Miloslav Vlk publicly dissociate him from this action and warned of an influence of these groups (like Society of St. Pius X). In the actual picture from this year´s May is Michal Semín speaking with Bishop Bernard Fellay, the main representative of traditionalistic Society of St. Pius X or "Priestly Fraternity of St. Pius X"., which gave sacrament to confirmation of Brno´s Chapel of the Queen of Saint Rosary.
Current archbishop Dominik Duka shows more open position to this movement in Catholic Church. In January 2011 he was personally presented at demonstration, which was co-organized by Action D.O.S.T. Duka has got very good relationship with president Klaus. The circle is compete.